contact

Ace Vintage Systems

Guys Cliffe Farmhouse
Warwick
CV34 5YD.

Telephone :
07711 887994



Email :


alex@acevintagesystems.co.uk
vintage martin audio sound system


totally analogue martin audio sound system with experienced engineers

for special events
Ace Vintage Systems are specialists in the classic Martin Audio modular system, of which we have extensive stock. This original horn loaded concert system designed by Dave Martin in the 70's and 80's was used by all the major touring artists of the time and earned an enviable reputation.
Over the last 25 years we have collected and restored, to the highest standards, one of the largest inventories of original Martin speakers.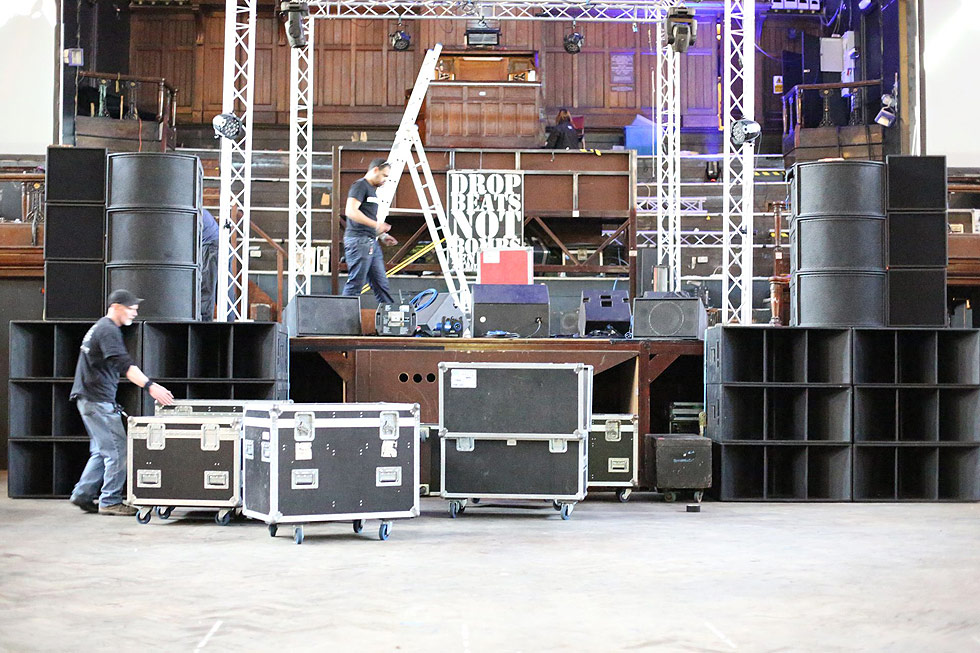 Q Club, Birmingham.
A typical front of house system comprises 18 Martin Audio 215 Mk3 Bass Bins, 12 Martin Audio Philishaves and 12 JBL top boxes, although our extensive inventory allows us to provide larger systems.
Our monitor system comprises bi-amped stage wedges and fills, all using co-axial drivers.
Front of house and monitors form a totally analogue system, both being supplied complete with Klark Teknik DN27 graphic equalisers, BSS crossovers and
BGW Grand Touring amplifiers.
ace vintage systems at the umbrella fair northampton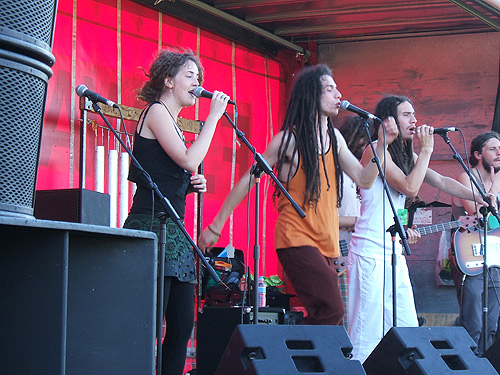 Ace Vintage Systems provided sound for main stage of the Umbrella Fair in Northampton. The system ran totally in analogue from microphone to loudspeaker producing the classic warm and clear sound for which these speakers are renowned.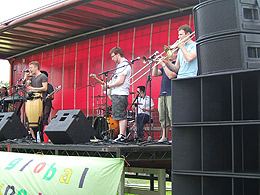 Front of house engineer was
Dave Callanan, with Andy Brown on monitors.

Bands included Celtic Rasta (picture left), Citadel (picture right) and Sandeep Raval.

Dave said "It was a pleasure to spend such a beautiful warm weekend mixing very talented bands, and the vintage Martin Audio system really delivered."
vintage dave martin rig in royal return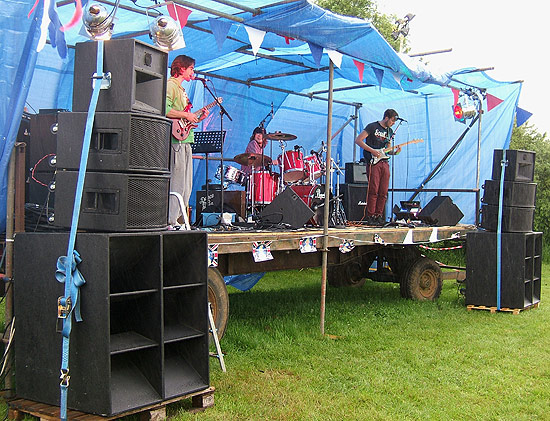 Stereo Asylum put the rig through its paces.
With so much state-of-the-art sound reinforcement equipment deployed on Diamond Jubilees the length and breadth of Britain, this picture harks back to a bygone age, and is one for the many fans of vintage Martin Audio culture (and founder Dave Martin's unique designs).

Alex Czechowski of Ace Vintage Systems has a veritable museum of working iconic pieces, some of which he fielded at Glastonbury last year (when the Orange Chill 'n' Charge tent was turned into a retrospective space).

This time Ace provided more high quality vintage sound at a Jubilee event in Greatworth, Northampton, which ran totally in analogue from the microphone to the loudspeaker.
The stacks would have done credit to any band playing 25 years ago, since the bass bins were the legendary Martin Audio 215 Mk3, complemented by Martin Audio MH112 mids (also known as 'Ladyshaves') and some tops.

"It sounded fantastic, producing a really warm and clear sound," he said. "It showed that new British music is alive and raw which I think makes a change in these corporate times."

The man in the FOH control position was sound engineer Dave Callanan - mixing on a WEM Audiomaster perhaps?
[NOTE : Text and Photo above first published in 'Lighting & Sound International Online - daily online news'.]
Big Mick Hughes talks about bass
"Big" Mick Hughes (engineer for Metallica) talks about bass - excerpt from interview by
Tom Wendt